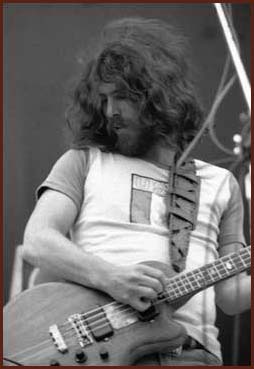 Dave Torbert Santa Barbara 5/20/73
photo by Gary Baker
In May of 1973, the New Riders appeared on ABC-TV's "In Concert" program to a nationwide audience. Working hard on the road for much of the year, including gigs with the Dead at Kezar Stadium in San Francisco and R.F.K. Stadium in Washington, DC, they took a brief time out to go into the Record Plant in Sausalito with producer Norbert Putnam. The result was The Adventures of Panama Red, released in September of 1973 and with Peter Rowan's title track, this became an FM radio staple and the first gold record for the band. In November they embarked on an east coast tour that included them setting the box office record at New York City's Academy of Music. This tour was recorded for the group's first live album, Home, Home on the Road, which was produced by Jerry Garcia.
Early 1974 found bassist Dave Torbert wanting to pursue a more rock and roll direction as he left the New Riders to form Kingfish with old friends Matthew Kelly and Bob Weir. Skip Battin, formerly with the Byrds, joined the band on bass as they kept to their solid touring schedule which had become one of the band's trademarks. In August, 1974, the New Riders gave a free thank you concert in Central Park on a Tuesday afternoon to 50,000 New York fans. Their sixth album, entitled Brujo, was released in October, 1974 and found their recorded sound getting crisper with delicate harmonies and more original songs.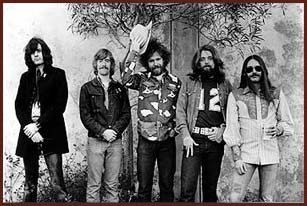 1974 Publicity photo (l-r): Spencer Dryden, John Dawson, David Nelson, Skip Battin, Buddy Cage.
Searching for expanded musical horizons, the New Riders hooked up with producer Bob Johnston, known for his work with Bob Dylan, in 1975. Letting Johnston take them down uncharted terrain, the resulting Oh, What A Mighty Time found the band hooking up with Sly Stone and a bevy of female background singers. Mighty Time also features Jerry Garcia's electric guitar leads on "Take A Letter Maria." Just about this time, the music business was entering another era and the New Riders ended their relationship with Columbia Records. The subsequent release of the Best of the New Riders of the Purple Sage, with its infamous cover, fulfilled their obligation to Columbia and the band then signed with MCA Records in 1976.