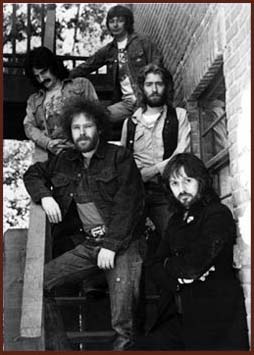 1976 Publicity Photo (l-r): Stephen Love, David Nelson, Buddy Cage, John Dawson, Spencer Dryden.
New Riders, the bands first release for MCA, was comprised of mostly cover material and was the last album to feature Skip Battin, who had left to join his cohorts in the Flying Burrito Brothers. Once again, mining from the Byrds/Roger McGuinn stable of bass players, Stephen Love, also an alum of Rick Nelson's Stone Canyon Band, joined the band and inserted a renewed energy to the live shows. Love's songwriting talents contributed heavily to Who Are Those Guys?, which was released in the Spring of 1977. At this point, Spencer Dryden traded in his drum sticks to begin managing the band. Patrick Shanahan, another Stone Canyon Band alumnus, fit right in on drums and is featured on Marin County Line, the late 1977 release that ended the bands association with MCA.
Many more changes would engulf the New Riders personnel from this point on. Buddy Cage and Stephen Love departed in 1978 to join the short-lived San Francisco All Stars with John Cippolina. Skip Battin and his Burrito Brother pals Gib Gilbeau and Sneaky Pete Kleinow were then brought in for what would seem like a dynamic mix. But after a brief tour of the Northeast, they had exited as quickly as they entered. Bobby Black from Commander Cody's Lost Planet Airmen took over on pedal steel and another Rick Nelson alum, Allen Kemp, took over on bass. Cage would re-join the band in 1980 and the band would make their last major label release for A&M with Feelin' Alright.
The years of grinding it out on the road and the lack of major label attention led to Nelson and Cage taking a break in 1982. Dawson continued to carry the New Riders torch all through the 1980s and early 1990s with help from Rusty Gauthier, Gary Vogensen, Bill Laymon, and select other Bay Area musicians.
The dawn of the 21st Century found John Dawson retired to the hills of Mexico, David Nelson creating incredible music with his David Nelson Band and Buddy Cage working with an array of acts including the Brooklyn Cowboys. These three main components of the New Riders' sound reunited in October, 2001 for band archivist Rob Bleetstein's 40th Birthday Bash at the Sweetwater in Mill Valley, California. They performed two highly charged sets, including classic versions of "Garden of Eden" and "Portland Woman."
The New Riders of the Purple Sage received a Lifetime Achievement Award from High Times magazine at their Doobie Awards in September, 2002 and performed a brief set (which included "Loneseome L.A. Cowboy" and "Panama Red" with Peter Rowan) at the festivities at B.B. King's Blues Club in New York City.
Henry took off the brakes in 2006 as the New Riders of the Purple Sage went back on the road with a revived and inspired lineup, bringing the songs of John Dawson back to the ears of adoring crowds nationwide as well as taking those songs to places they've never been before musically. Led by David Nelson and Buddy Cage, the current touring lineup includes Michael Falzarano (Hot Tuna) on guitar and vocals, Ronnie Penque on bass and vocals and Johnny Markowski (Stir Fried) on drums and vocals.
John Dawson passed away on July 21, 2009, but before his passing he had given the guys his blessing and was excited to know his music is being heard live again by a new generation of fans. Keeping the NRPS spirit and flame alive, the band released it's first studio album in twenty years in 2009 titled Where I Come From. Featuring a slew of new songs written by David Nelson and Robert Hunter among other band originals, the New Riders' renaissance continues to grow, both on record and at their live shows, where they are continually breaking out new songs on every tour while staying true to the legacy that was started over 40 years ago by John Dawson and Jerry Garcia.
< Back